Add a Line
For some homes, one line isn't enough
Add a Line
Add a phone line to your Vonage account and free up your home phone from professional calls or talkative teenagers.
Features
Add a line quickly and easily through your Online Account.
Select a new number or transfer an existing one.
Promotional rates as low as $14.99 for 3 months.
Choose a different plan for each line.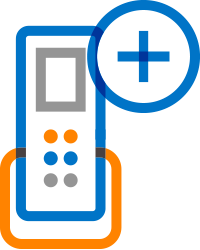 Are you a small business owner with a growing company?
Check out our small business phone plans. Each one includes:
• Unlimited calling*
• No long-distance charges in the continental U.S. or Canada
• 40+ built-in business phone features
*Reasonable and acceptable use policy applies.
FAQs
Learn more about Vonage features
To add another voice line or a dedicated fax line, simply go to your Online Account once your primary number is set up.

Absolutely. Adding a second voice line, or a dedicated fax line to your Vonage service can be done through your Online Account.

No, but you're welcome to add a Virtual Number. This will give you a local area code and phone number in another country for people to call and reach you on your Vonage number.
Not a customer?

Shop for plans
It's easy to get the right plan for all your calling needs.
Already a customer?
Add a line to your account
Adding a line is quick and easy through your account.