Your Recommended Plan(s) for Canada:
Vonage® North America

NEW!

Unlimited¹ calling to Mexico
With the NEW Vonage® North America plan, get unlimited¹ calling using your home or mobile phone across the U.S. (including Puerto Rico), Canada and now Mexico too. Plus, get great low international rates across the world.

Call landlines & mobiles
Unlimited¹
Across the U.S. (including Puerto Rico), Canada, and now, Mexico
6-Month Promotion
/month for the first 6 months
plus taxes and fees
Free Shipping & Free Activation
No Annual Contract
/month
plus taxes and fees
Free Activation
Calling Rates For Canada
Calls to Landlines
Included
Calls to Mobile Phones
Included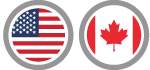 U.S. & Canada 400
Our domestic plan with 400 minutes included per month is a flexible, feature-packed option for home phone service on the cheap, that lets you make and receive calls on your home phone and two smartphones using our app.
Calling Rates For Canada
Calls to Landlines
Included
Calls to Mobile Phones
Included
---
---
Calling Canada at low rates
Vonage makes calling Canada easier than ever with the Vonage North America plan. It offers low per-minute rates when calling Canada from the U.S., and special calling features that keep you in touch with friends and family across the world. The Vonage North America plan also offers unlimited¹ calling across the U.S., Puerto Rico, Canada and Mexico.
Unlimited¹ VoIP calling plans let you talk without the hassle of calling cards.
Enjoy the convenience of calling Canada whenever you want, without the hassle of buying and refilling calling cards. No long PINs or wasted minutes waiting for your call to connect, making calls to Canada a breeze. A Vonage calling plan means you can call whenever you want and talk as much as you like.
Experience the usefulness of enhanced call forwarding from your home phone to your smartphone whenever you want, that way you never miss a call.
Download the Vonage Extensions App to use Vonage boomerang for free on smartphones or landlines. The app allows you to register phone numbers from your friends and loved ones in Canada or around the world. Then once they call your number, they will hear a prompt to hang up. Within 10 seconds the Vonage system will call the person back and connect you two. The best part is that only your plan gets charged for the call. You'll never miss a call from loved ones overseas again.
Share your Vonage plan with friends or family for free with the Vonage Extensions App, which allows you to add up to two smartphone numbers to your plan. The app provides the flexibility for all three phone numbers to place and receive calls away from the home at the same low rate as your Vonage calling plan.
¹Unlimited calling is based on normal residential, personal, non-commercial use. A combination of factors is used to determine abnormal use, including but not limited to: the number of unique numbers called, calls forwarded, minutes used and other factors. Subject to our Reasonable Use Policy and Terms of Service.
How to call Canada
from the U.S.
Canada COUNTRY CODE
1
CALLING Canada FORMAT
1 + 3 digital area/city code + 7 digital phone number
To call Canada from the U.S., just follow these simple dialing directions:
First dial 1, the country code for Canada.
Then dial the area code (3 digits).
Finally dial the phone number (7 digits).
Awards & Reviews
See how we compare to the competition.
"Keeping in touch has never been easier, cheaper or more convenient with Vonage Mobile."
The Huffington Post
"Vonage has a wide range of plans to suit every customer's needs."
NextAdvisor
2014 People's Choice Stevie® Award for Favorite Customer Service in telecommunications.
Stevie Award
Tools to help you decide
Please Choose a Plan
I'm Calling To
What our customers are saying
FAQs
Learn more about Vonage
Vonage works with any high-speed Internet connection (like DSL or cable). We're not an Internet Service Provider, so you'll need to have your own broadband Internet service in place to use Vonage.

Yes. In most cases you can keep your current phone number. You'll be able to check if your number can be transferred using the Keep Your Phone Number tool found in the tools module near the bottom of every plan page. If your number is transferable, we'll help you bring it over to Vonage. And because transfers usually take about 7-10 business days, we'll give you a temporary phone number so you can start using your Vonage service right away.

No. If you don't have an existing phone number, or don't want to transfer your current one, we'll be happy to give you a new number when you sign up. You can even choose from available area codes and select the phone number you like best.